Bikaner, Rajasthan, October 11, 2010 - Pelagian Softwares, one of the largest ever growing software development House, after a huge success of Restaurant Billing Software and frontWin- Hotel Management Software once again has brought newly developed software for HR solution & other organizational services named Payroll for Windows.
Payroll Software provides very extensive management System in order to handle employees' entire job responsibilities and concerns at the work station where Administrator or Human Resource department uses this too much easier facility to perform their duties in a simple way. This customized software highly aims at to enable result-oriented and user friendly management skills for any organization by supplying tremendous innovative techniques that assists you in managing status of all employees of your office or organization.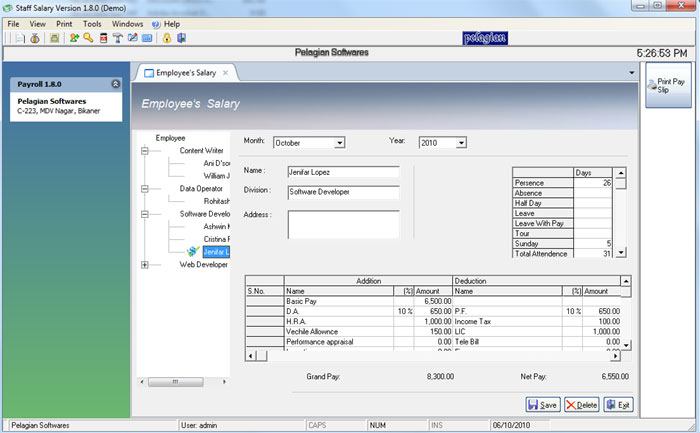 It has been developed in such order which truly provides accurate data in concern with leaves, Attendance, Personal details of employees, salary details etc. and also sends you comprehensive system to evaluate the things in just single mouse click on application.
The proprietor of Pelagian Softwares Mr. Rishi Acharya enthusiastically pointed out "Our Payroll Software supplies comprehensive Human Resource Software Solutions for complete HR Management and other organizational management. With years of experience specializing in development of the payroll software we have included excellent techniques i.e. Attendance management, Payroll system, and Leave Management, Project Management solutions, which have been developed to solve complex HR needs of small to large organization."
Before that we have also developed Payroll Software for DOS. But this software is the modern solution which is available at the cheapest price Rs. 5486/- only.